Direct Cremation Services Starting at $1,450
A cremation option offered by Macken Funeral Home - Serving Olmsted County, Minnesota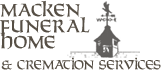 by Macken Funeral Home
The Simply Cremation Plan is an affordable direct cremation option offered by Macken Funeral Home – Rochester's oldest family-owned and operated funeral establishment, serving our area for over one hundred years.  We will also offer this plan at our new facility in Byron once we open in December.
Expedited Services
By operating our own crematory, we are able to expedite the cremation process. Families can often receive their loved-one's cremains within one day's time.
Price Match Guarantee
We will match any local cremation provider's advertised price.
The Simple and Low-Cost Cremation Option
We have created the Simply Cremation® Plan for families who desire a simple, low-cost cremation option. This plan provides for direct cremation only and includes no other services. By reducing the involvement of our staff, we are able to offer you this low price.
Learn More
Our Location
1105 12th Street SouthEast Rochester, MN 55904